Introducing Ascension's Executive Director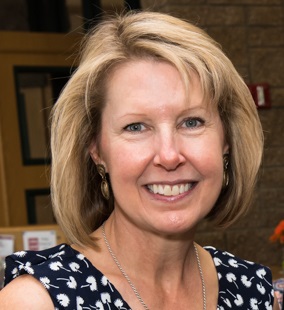 Kim McClain
Executive Director, Cove Ascension School Camp & Conference Center
By Barb Morris
On February 8th, Bishop Pat Bell announced his appointment of Kim McClain as the next Executive Director of Ascension School Camp and Conference Center. Many of you know Kim as the chair of EDEO's Environmental Justice Commission, current President of the Standing Committee, former member of Diocesan Council, and one of our 2018 General Convention Deputies. We at Trinity Bend know Kim as a Eucharistic Minister, lector, ministry coordinator, chair of our Eco-Justice Team, and vocal champion of all things green. What you may not know is that Kim brings a diverse array of corporate, non-profit, and church experiences and skills to her new position, along with her deep commitment to the Church and to the Earth. Here are just a few highlights.
Kim is an "Air Force brat" who spent her childhood on bases throughout the US, mostly in Texas, and earned a degree in Business Analysis and Finance from Texas A&M. She was a member of Rockwell's space shuttle team in Houston and worked for Allied Signal at White Sands Test Facility in New Mexico. (Ask her what a space shuttle launch feels like!) She's rehabilitated and trained Arizona raptors, and co-founded an environmental education nonprofit to share these birds of prey with kids. Kim's current professional role with the Environmental Center focuses on reducing Bend's carbon footprint and energy consumption. She's been a member of seven Episcopal parishes along the way, after growing up Lutheran and becoming an Episcopalian in 1994. "I have participated in almost every lay ministry in the past 22 years: Altar Guild, usher, lector, Eucharistic Minister, Adult Ed leader, Newcomers, Daughters of the King, Outreach Coordinator, Liturgy Team, Prayer Team, Alpha leader, Discovery leader and speaker (similar to Cursillo)," she says.
Kim is grateful to be following in the footsteps of Patty Olson-Lindsay, who has served the Diocese of Eastern Oregon so creatively and faithfully. One of Kim's first tasks as Ascension Director will be to assess the needs of the current campus's historic buildings. She also hopes to expand adult education offerings to take advantage of Ascension School's location at the foot of the Wallowa Mountains and to increase use of the Coe-Kerr building. Kim's looking forward to augmenting the Ascension School staff's already strong commitment to sustainability, local food, and green technology with her environmental experience and passion.
When she's not working, Kim enjoys yoga, hiking, backpacking and camping, horseback riding, gardening and photography, and yellow Labradors. She's hoping a Lab will fit into her new life in Cove!
Kim is excited that her personal journey, her professional skills, and her faith have all converged to bring her to this new role in a beautiful corner of Oregon, and feels strongly that the Holy Spirit is responsible. Kim says, "I'm an Eastern Oregonian by choice. I love wide open spaces and need to see the sun and the horizon – the beauty of the dry places that can only be seen by slowing down and immersing myself in the landscape."